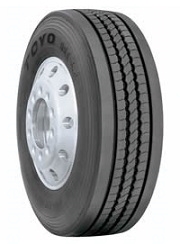 Toyo 11R24.5 H (TL) M154
Commercial Truck/Bus. SmartWay Verified Medium-Duty Truck Deep All-Position Radial tire Designed For Regional and Urban Service.
Features
Improved wear performance and long life
Durability and enhanced retreadability
Improved performance
Excellent profile retention
Toyo Truck Tire Limited Warranty and Casing Policy
EPA SmartWay Verified
Benefits
e-balance profile minimizes growth of the tread profile and maintains uniform and flatter tread radius for the entire life of the casing
e-balance design provides even contact pressure distribution across the tread surface resulting in smooth wear and long life
Special Cap and Base tread compound reduce heat at the belt edge and excessive heat build-up inside the tire structure
5 rib - four groove tread design for improved performance on all road surfaces
Deep sipes and multi-pitch grooves enhance wet traction
T-Mode tire simulation optimizes tire design for improved vehicle handling and reduced road noise
e-balance improves profile retention by reducing strain at the belt and ply turn-up edges
Tire Size: 11R24.5 H (TL)
Load Rating: 149/146
Speed Rating: L
Ply Rating: 16
Product Code: 548750
Availability: Out of Stock
This tire is not available, but our inventory is changing everyday. Check back later or we can notify you when the tire becomes available.