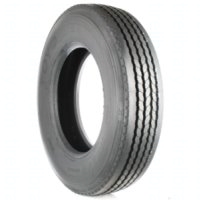 Toyo 11R22.5 G TL M122
Commercial Truck/Bus. Medium-Duty Truck All-Position Radial tire. Suitable for both Steer and Trailer Position Use, designed Specifically for Local Delivery and Regional Haul Applications.
Features
Traction and steering performance
Durability
Enhanced retreadability
Toyo Truck Tire Limited Warranty and Casing Policy
Benefits
Five rib, four-groove design with 17/32" tread depth improves stability and handling performance
DSOC IITM technology optimizes design for even wear and long life
Wide five rib pattern for optimum performance
Stone ejector grooves minimize stone retention to maintain casing integrity
Four Steel Belt Construction braces the tread area for improved mileage, resistance to irregular wear and reduced rolling resistance
Improved casing profile and compounding provides increased resistance to fatigue, longer casing life and improved retreadability
Tire Size: 11R22.5 G TL
Load Rating: 144/142
Speed Rating: L
Sidewall: Black Sidewall
Ply Rating: 14
Product Code: 548020
$419.42/Tire
Includes FET
Availability: In Stock
Price is for tires only.
Need Help? Call us: 866-821-0525
Mon-Fri: 9:00am - 5:00pm EST
Please note: All orders over $700 will require a signature for delivery. ($4.75 per package)
{0}