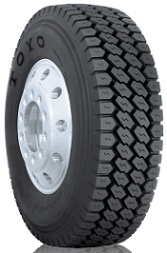 Toyo 11R22.5 H M610ZL
Commercial Truck/Bus. Medium-Duty Truck Deep Open-Shoulder Drive-Axle Position tire Suitable for Regional and Urban Applications.
Features
Deep 28/32" open-shoulder tread
High-traction, high-torque tread design
DSOC II™ technology
Tie bars in shoulder bridge
Four-steel-belt construction
V-shaped groove design
High-elongation top belt
Toyo Truck Tire Limited Warranty and Casing Policy
Benefits
Provides traction in both wet and dry conditions
Prevents block tearing
Optimizes footprint design for even wear and long life
Delivers longer life
Reduce tread block movement
Braces the tread area, improving durability
Ejects packed stone at low speeds to prevent stone drilling
Protects casing integrity
Tire Size: 11R22.5 H M610ZL
Load Rating: 146/143
Speed Rating: L
Sidewall: Black Sidewall
Ply Rating: 16
Product Code: 556330
$519.37/Tire
Includes FET
Availability: In Stock
Price is for tires only.
Need Help? Call us: 866-821-0525
Mon-Fri: 9:00am - 5:00pm EST
Please note: All orders over $700 will require a signature for delivery. ($4.75 per package)
{0}