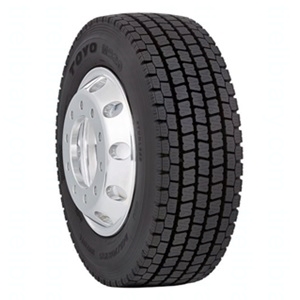 Toyo 11R22.5 G M920
Commercial Truck/Bus. Medium-Duty Truck Extra-Deep Drive Axle Position tire for Urban and Regional Operations.
Features
Extra-deep, 23/32" tread depth
Wider tread width
Super-thin sipes
Optimized staggered shoulder blocks
Cross-sipe arrangement
V-notch in tread grooves
E-balance profile
Stone ejectors in all major grooves
Toyo Limited Warranty for Commercial Truck/Bus Radial Tires
Benefits
Delivers maximum miles
For even load distribution, improved stability, and excellent profile retention
Decrease block movement under driving and braking conditions to deliver more even wear
Provide exceptional all-season traction
Maintains block stiffness to provide traction throughout the life of the tire
Provides traction in all conditions
Provides optimum footprint wear to increase mileage performance
Minimizes growth of the tread profile and maintains uniform and flatter tread radius for the entire life of the casing
Prevent casing damage
Tire Size: 11R22.5 G
Load Rating: 144/142
Speed Rating: L
Sidewall: Black Sidewall
Ply Rating: 14
Product Code: 540100
$436.66/Tire
Includes FET
Availability: In Stock
Price is for tires only.
Need Help? Call us: 866-821-0525
Mon-Fri: 9:00am - 5:00pm EST
Please note: All orders over $700 will require a signature for delivery. ($4.75 per package)
{0}