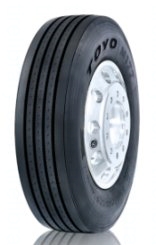 Toyo 295/75R22.5 H TL M177
Commercial Truck/Bus. SmartWay Verified Medium-Duty Truck Deep 18/32" Steer tire for Long-Haul Operations.
Features
Improved footprint with top DG
Deep 18/32" tread
Low-rolling-resistance tread compound
Computer-optimized tread design with four straight grooves, deep sipes, and multi-pitch grooves
E-balance profile
High-elongation top belt
EPA SmartWay verified
Toyo Limited Warranty for Commercial Truck/Bus Radial Tires
Benefits
Minimizes irregular wear
For improved mileage
Minimizes fuel consumption and qualifies it as a SmartWay-verified steer tire
Provides enhanced wet and dry traction while also reducing road noise
Minimizes growth of the tread profile and maintains uniform and flatter tread radius for the entire life of the casing
Protects casing integrity
Tire Size: 295/75R22.5 H TL
Load Rating: 149/146
Speed Rating: L
Sidewall: Black Sidewall
Ply Rating: 16
Product Code: 547130
$468.02/Tire
Includes FET
Availability: In Stock
Price is for tires only.
Need Help? Call us: 866-821-0525
Mon-Fri: 9:00am - 5:00pm EST
Please note: All orders over $700 will require a signature for delivery. ($4.75 per package)
{0}