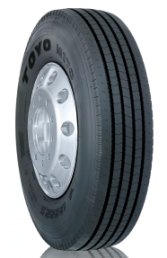 Toyo 11R22.5 H M170
Commercial Truck/Bus. Medium-Duty Truck Premium Regional and Urban Steer Radial tire Capable of All-Position Use.
Features
Durable compound and increased tread volume
E-Balance bead construction
E-Balance optimized tread design and casing profile
V-shaped groove design
Benefits
Improves wear life by more than 20% on it's predecessor
Reduces heat buildup and strain to enhance durability
Improves footprint shape and contact pressure distribution
Ejects stones from grooves
Tire Size: 11R22.5 H
Load Rating: 146/143
Speed Rating: M - 81 mph (130 kph)
Ply Rating: 16
Product Code: 546300
Availability: Out of Stock
This tire is not available, but our inventory is changing everyday. Check back later or we can notify you when the tire becomes available.