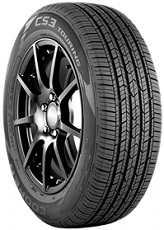 Cooper 205/60R16 CS3 TOURING
All-Season Passenger Car/Minivan Touring tire.
Features
Modern touring tread compound and tread profile
3D Micro-Gauge™ siping
Stabiledge™ performance
Coupled tread elements
M+S Rated
Standard Limited Warranty
60,000 Mile Treadwear Protection Warranty (V/H-Rated)
65,000 Mile Treadwear Protection Warranty (T-Rated)
Benefits
Provide even wear and a long tread life
Helps maintain a stable shape during acceleration, braking and cornering, which enhances grip and traction
Enhances handling and dry traction stability
Provide tread block stability for precise handling
Tire Size: 205/60R16
Load Rating: 92 - 1389 lbs (630 kg) per tire
Speed Rating: V - 149 mph (240 kph)
Sidewall: Black Sidewall
Warranty: 60000 Miles
UTQG: 580 A A
Product Code: 90000019356
$111.42/Tire
Availability: In Stock
Price is for tires only.
Need Help? Call us: 866-821-0525
Mon-Fri: 9:00am - 5:00pm EST
Please note: All orders over $700 will require a signature for delivery.
{0}