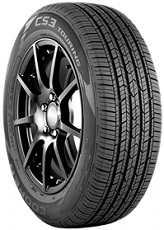 Cooper 185/60R15 CS3 TOURING
All-Season Passenger Car/Minivan Touring tire.
Features
Modern touring tread compound and tread profile
3D Micro-Gauge™ siping
Stabiledge™ performance
Coupled tread elements
M+S Rated
Standard Limited Warranty
60,000 Mile Treadwear Protection Warranty (V/H-Rated)
65,000 Mile Treadwear Protection Warranty (T-Rated)
Benefits
Provide even wear and a long tread life
Helps maintain a stable shape during acceleration, braking and cornering, which enhances grip and traction
Enhances handling and dry traction stability
Provide tread block stability for precise handling
Tire Size: 185/60R15
Load Rating: 84 - 1102 lbs (500 kg) per tire
Speed Rating: T - 118 mph (190 kph)
Sidewall: Black Sidewall
Warranty: 65000 Miles
UTQG: 600 A B
Product Code: 90000002582
Availability: Out of Stock
This tire is not available, but our inventory is changing everyday. Check back later or we can notify you when the tire becomes available.