Brand Results: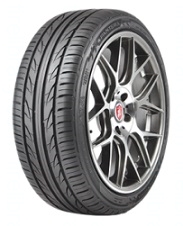 SPORT A/S
All-Season Ultra High Performance Passenger Car tire.
Benefits
Optimized tread pitch width and alignment reduces road noise levels at higher speeds, Lateral and longitudinal grooves deliver more control, Additional sipes and grooves improve hydroplaning resistance, Tread compound contains silica which helps wet traction, rolling resistance and cold weather pliability, Larger tire contact area allows grip, stability and control
SPORT SUV
All-Season Ultra High Performance Passenger Light Truck/SUV tire.
Benefits
Combined large contact patch and tree-like central spine for excellent grip, stability, high-speed controllability and confident cornering, High silica formula promotes fast braking and responsive handling, especially in wet conditions, Twin longitudinal grooves with 3-D groove walls evacuate water and resist hydroplaning, Variable pitch patterns with 2-in-1 alignment reduce noise levels at high speeds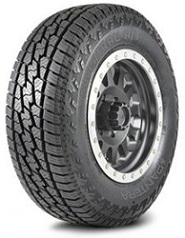 SUPERTRAC A/T
All-Terrain Passenger Light Truck/SUV tire.
Benefits
Five-pattern-block design has been engineered to expel water and reduce noise under a variety of road and terrain conditions, Special cutting corner on all borders of the groove pattern makes it more dimensional, more "stereoscopic" and more effective at promoting driving stability and comfort, Zigzag pattern design of the middle tread element reduces noise while the sloped corner repels rocks and improves earth-grasping performance, Bench-shaped shoulder design provides excellent earth-grasping action for stable high-speed turns under dry and wet road conditions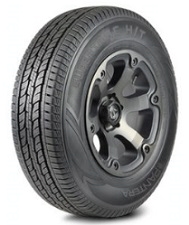 SUPERTRAC H/T
Highway-Terrain Passenger Light Truck/SUV tire.
Benefits
Continuous center rib maintains straight driving stability while its slant groove on the rib improves braking performance, Closed shoulder design blocks noise from the middle of the tire for a quieter, more comfortable ride, Consistent middle pattern and uninterrupted closed shoulder design improves stability for surer control, Longitudinal groove design is optimized for effective drainage, faster braking, improved acceleration, and stable turning on wet terrain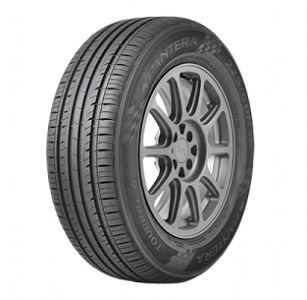 TOURING A/S
All-Season Passenger Car Touring tire.
Benefits
Advanced tread compound reduces rolling resistance for better fuel economy, Helps save the environment with reduced exhaust emissions, Four wide longitudinal grooves channel road water, while lateral grooves work to direct it out from under the tire, Shoulder is integrated with heat-resisting bars to keep the tread blocks stable and protect them from irregular wear, Design also improves high-speed cornering stability, Optimized tread pitch width and alignment quiet resonance and the road noise it creates