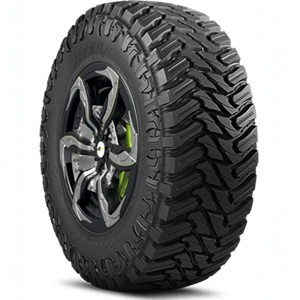 TRAIL BLADE M/T
Mud-Terrain Passenger Light Truck tire.
Benefits
To increase off-road strength and durability, Meets the EU REACH level of compliance, For biting edge grip and noise reduction, For lateral grip in dirt, sand and snow, Help eject whatever you have just crushed, Aids in wet grip, Provides extra protection for rims, Provide deep gouging traction
TRAIL BLADE X/T
All-Terrain Passenger Light Truck/SUV tire. Rugged Performance and Amazing Style, On- and Off-Road, in a New Kind of All-Terrain tire for Owners of Lifted Vehicles and Modified SUVs.
Benefits
Provides strength and durability both on- and off-road, Give excellent grip in loose sand and mud, Maintain excellent on-road manners, Offer protection and style, Enhance traction in rain and snow, Provides protection against curb damage to wheels